Spirit Dancers

---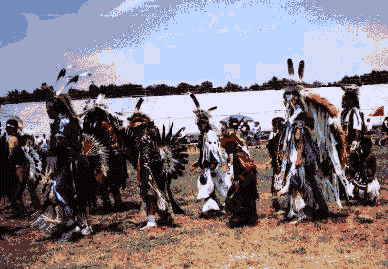 Memphis Pow Wow 1998
These are pic's of some of the dancers, many Pow Wow's forbid picture taking while dancing is in progress, there are some occasions when it is allowed. It is best to get permission before taking pictures. You will be instructed when it is permitted. Dancing is a spiritual expression and
not performed for entertainment purposes.

The dancers are dressed in regalia ( these are not costumes) Just as you would not refer to the robes a priest wears or the uniforms of soldiers, doctors or nurses as costumes. Regalia is highly expressive and spiritually meaningful to the individual. Most Pow Wow's whenever possible are set up along a body of water, rivers, creeks, lakes or oceans. Pow Wow's take place from Friday evening through Sunday evening year round.

---
Loretta Lynn's Ranch Hurricane Mills, TN July 4th 1998
Each year on the 4th of July weekend the Lynn family have a Pow Wow at Loretta's Dude Ranch.
The Lynn family are Cherokee, originally from Cherokee, TN, now known as Cherokee NC
They later moved to Middle TN and settled in the Nashville area.
Loretta's ranch is located in the mountains of Tennessee not far from Nashville near the town of Hurricane Mills..
The ranch is open year round, complete with camping facilities, horse-back riding, fishing, swimming and canoeing. Loretta has a theater where she has televised concert performances.

---

Spirit dancing is a major part of all Pow Wow's. There are many different dances and each tribe has their own traditional dance. Each dancer has their own expression as individual and unique as the spirit that is within them.
Dancing is performed before an important event such as hunting, going into battle, marriage, crop planting, harvesting, council meetings, spiritual quests, feasts, healing, giving thanks or honoring an individual or event. It is a form of prayer, thanksgiving and blessings.
The musical instruments most often used are, flutes, drums and rattles and are often accompanied with singing and prayer chants.

---

Memphis, TN Pow Wow 1998 jingle and fancy shaw dancers
Native American children begin dancing at an early age, usually from the time they are old enough to walk.

Traditional Cherokee Shaw dancers, Memphis, TN 1998
There are two styles of Cherokee dress the women wear, the buckskin dress that was typical before the time of the European settlers and the cloth dress that later became the style among Cherokee women after European influence. The Cherokee were farmers and fishermen, unlike the Nomadic Plains People that lived in Tee Pee's and followed the buffalo, they lived in log cabins in large communities with a population of several hundred to two or more thousand, similar to that of the Early European settlements. Their diet consisted of corn, fish, vegetables, fruit, nuts, berries and game.

---
Next Pics
---
Smokesignal